Christchurch 2016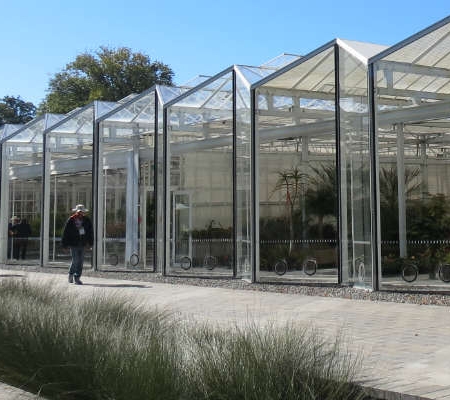 180 delegates, 18 speakers, 8 field trip visits, 2 awards presented, that was Conference 2016 in a nutshell. Christchurch turned on beautiful weather for conference; in fact the International tour had fantastic weather the whole way.
The conference kicked off on the Thursday evening at the Rydges Latimer with Happy Hour and a light dinner before Hypnotist Reg Blackwood entertained those present with his show which included hypnotising a few members.
The Hort Fert Six pack were also introduced – Liam Brown (Daltons), Carla de Boer (Dunedin Botanic Gardens), Olivia Margetts (Christchurch Botanic Gardens), Kimberley Salmond (Goodlife Gardens), Sharon Watson (Parva Plants) and Tony Shireman who was our guest from the IPPS Western Region.
Friday morning saw former Christchurch Mayor Garry Moore open the conference before the speaker sessions got underway. Papers presented included blueberries as a potted ornamental plant, sprinklers over nozzles and the Christchurch Botanic Gardens.
The afternoon field trip headed to the Christchurch Botanic Gardens where lunch as enjoyed in the sun and was followed by a tour around the glasshouse facilities. The buses then headed to Zealandia Horticulture and Elliott's Wholesale Nursery where afternoon tea was enjoyed. Some also took the opportunity to visit Proseed a few minutes away.
The formal dinner was held at Rydges and saw the auction take place and the presentation of awards. Congratulations to Terry Hatch for receiving the IPPS International Award of Honour and Gus Evans for receiving the inaugural Presidents Award from outgoing President Lindsey Hatch. The band kept playing until midnight and quite a few members joined in the dancing while others headed for bed.
Saturday morning saw more papers presented including yellow magnolias, edible landscapes and truffles & mushrooms. The AGM was done quickly with the society having done well over the past year.
The afternoon field trip took us to the well known garden Broadfields where lunch was eaten before moving onto Southern Woods, Intelligro and K & L Nurseries. There was much speculation about where the mystery dinner venue was for the red and black theme. In the end, delegates didn't have far to go – the Cardboard Cathedral at the end of the street was the place and proved to be a spectacular venue. Prizes were presented for the best male and female costumes with a lot of effort put in by many at the dinner.
Sunday morning saw the last sessions of papers on areas including forcing flowering, plant breeding and exchange presentations from Japan and Western regions visits. An invitation was extended to those present to the 2017 conference before lunch brought conference to a close for another year.
Special thanks goes to all the sponsors for their support and to the organising committee of Jill Reader, Juliette Curry, Ian Duncalf, Hayden Foulds, Grant Hayman, Shirley Ogilvy, Greg Tod and Graeme Watts for making it all happen.
2016 Conference Sponsors
Platinum Sponsors
Daltons
Horticentre - Hortfert
Intelligro

Gold Plus Sponsors
Advanced Media Supplies
Kiwiflora

Gold Sponsors
Canterbury Landscape Supplies
Egmont Commercial
Growing Spectrum
ICL (Everris)
Info Services
Lincoln University
McHort
Primary ITO
Southern Woods

Silver Sponsors
Appletons Nursery
Bark Wholesalers
Blueskin Nurseries
Diacks Nurseries
GoodtoGrow
Harford Greenhouses
Reference Publishing Company
Roots, Shoots and Fruits

Bronze
Hook Bush Nurseries
Lowlands Nursery
Plantlife Propagators
Vibrant Earth