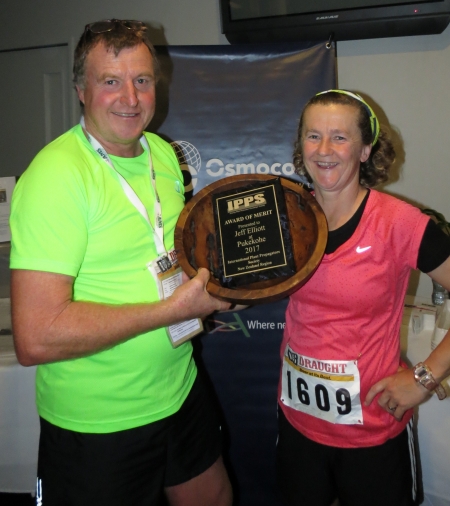 Jeff Elliott, 2017 recipient of the Award of Merit
The IPPS New Zealand Regions highest award for all round meritorious service.
Criteria:
Meritorious service to the IPPS New Zealand Region.
Meritorious service to New Zealand Horticulture.
Must be an active member of the IPPS New Zealand Region at the time the award is presented.
Frequency:
The award is only to be presented when there is a suitable recipient.
No more than one award is to be presented per year.
Selection panel:
The selection panel should be made up of three people including the current president, 2nd vice president and one other with a long association with the IPPS New Zealand Region, ideally the historian or secretary or treasurer. Selection should be made after informal consultation with the membership.
Presentation:
Presentation of the award should be made at the IPPS New Zealand Regions conference and should consist of a wooden bowl, which can be kept by the recipient until a new recipient has been named, and a plaque which will become the property of the recipient.

Award of Merit Recipients
Graeme Platt
1994
Rotorua Conference
Eddie Welsh
1995
Christchurch Conference
Terry Hatch
1996
Auckland Conference
Noel McMillan
1998
Napier Conference
Jan Velvin
2001
Hamilton Conference
Dennis Hughes
2004
Christchurch Conference
John Follett
2005
Tauranga Conference
Malcolm Woolmore
2006
Dunedin Conference
Jim Rumbal
2007
New Plymouth Conference
Ellaby Martin
2008
Auckland Conference
Ken Davey
2009
Hobart Conference
Richard Ware
2010
Blenheim Conference
Terry Hatch
2011
Napier Conference
Shirley Ogilvy
2012
Cromwell Conference
Ray Lawson
2013
Taupo Conference
Ian Duncalf
2014
Wellington Conference
Eric Appleton
2015
Nelson Conference
Jeff Elliott
2017
Pukekohe Conference