Registrations now open for Wanaka field trip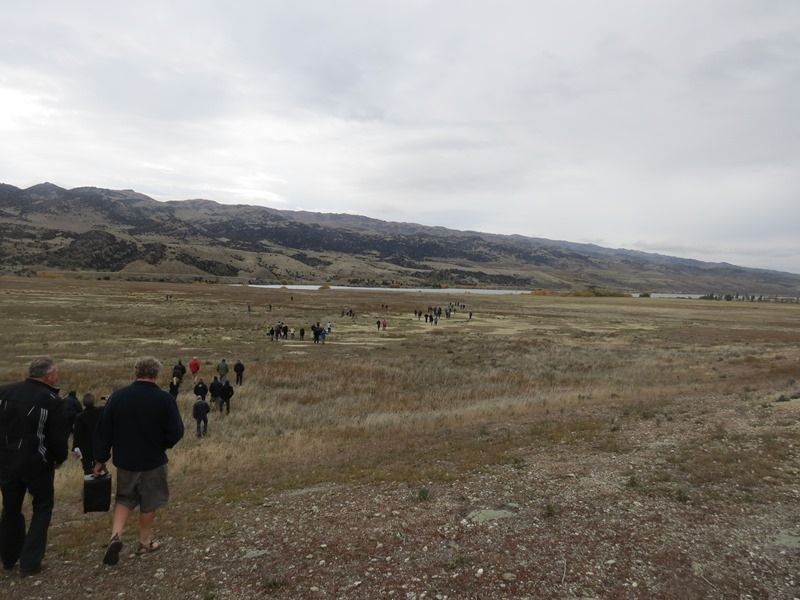 Update - field trip now full. No more registrations will be taken.
IPPS Wanaka Field Trip – November 2 & 3 2018
Welcome to Wanaka and the extreme, stunning landscapes of Central Otago
Friday 2nd November
8.30am – Meet up and be on the road by 8.45am (30 min drive). Meeting point in public carpark adjacent to Te Wanaka Lodge.
9.15am Jo Wakelin's Garden: Find out how Jo faced the challenges of rabbits, gravel, rocks and very little soil together with relentless wind, searing hot summers, frosty winters and very little rainfall. Today she has created an amazing lush and colourful garden which thrives on little or no rainfall !
Morning Tea provided
Salt Pan Reserve: Part of the Pisa Flats and a nationally acclaimed hot-spot for dryland biodiversity and next door to Jo's garden. You will find this 27 hectare reserve containing many rare and threatened plant species. See the halophytes in their natural habitat and figure out naming in the "cryptic plants" arena like the uncommon sedge Carex decurtate growing in a cushion plant Raoulia australis s.s. Our visit in November will reveal the rare forget-me-not Myosotis uniflora in flower and carpets of the undescribed woolyhead Craspedia . At least 41 native species have been found growing in this unique reserve, perhaps you will be the one to discover a new species!
11.30am - Depart (30 min drive) for Goldmining Village in the Kawarau Gorge, traverse the river across a narrow walking bridge to lunch at Wild Earth. Utilising French Oak Pinot Noir wine barrels, Wild Earth steams, bakes and smokes their delicious array of foods in front of your eyes. Brief talk/tour of goldfields providing an insight as to how gold was found.
1.30pm – Depart (35 min drive) for Bendigo Conservation Reserve, these high Dunstan mountains contain a rich diversity of plants. There is a recently formed loop track which will take us through a uniquely terraced band of kanuka and alpine tussock. Views west to the Southern Alps and east to the Otago hinterlands can be found. There are old and often very deep mining shafts throughout this area. Extreme care must be taken.
4.30pm – Depart (40 min drive) Return to Wanaka.
6.30 pm – Meet for dinner, drinks & debrief – Speight Bar-Wanaka.
Saturday 3rd November
8.30am – Meet and be on the road by 8.45am (30 min drive)
9.15am – Matukituki Natives: Nursery manager Clint will be there to meet us on arrival and to walk us around the nursery which specialises in eco-sourced plants and revegetation. Clint has also kindly offered to accompany us to Diamond Lake and look out.
10.00am – Depart (5 min drive) for Diamond Lake : An interesting example of regeneration Diamond Lake with it's walking track to the summit of Rocky Mountain is now a conservation area featuring native forest, wetlands and bush. Spectacular views of Lake Wanaka and the peaks of Mt Aspiring National Park from the 775 summit of Rocky Mountain !
12.30pm – Depart (10 min drive) Lunch at Alphaburn Station, Glendu Bay. Alphaburn is a working sheep,beef and deer Station with a large established country garden. It has large Oak trees and Rhododendrons underplanted with bulbs, Perennials. Roses and buxus surrounds the house and a large vegetable garden and orchard! It has a 2 ponds feed by a stream running through the garden. Garden tour and Lunch hosted by Allannah Mc Rae.
2.30pm – Depart (15 min drive) Pat Stuart Garden. Over the years Pat & Keith Stuart have transformed their acre of boggy peat in central Wanaka into a stunning woodland garden bordered by the swiftly flowing Bullock Creek. In early November the many Rhododendrons will be at their best along with Peonies, Hellebores, Primulas, Meconopsis and Trilliums.
3.30pm Depart (10 min drive) Lavender Farm. Charming and picturesque 10 acres of beautiful Lavender fields. Enjoy a unique afternoon tea with Lavender & honey treats.
4.45pm Depart (10 min drive) Return to Wanaka
6.30pm – Meet for dinner, drinks & debrief – Relish Café (option, group booking required).
Download a registration form below or click here to register online
Download field trip registration form